Growing cannabis successfully takes hard work and effort. Cultivators want to know that they're maximizing their yield – and their profits – as efficiently as possible.
That's why so many turn to Anden cultivation solutions for guidance when growing their business.
Anden provides precise and continuous control of indoor environmental conditions such as humidity. This is one of the most crucial and often-overlooked aspects of growing cannabis.
Through the use of smart alerts via Wi-Fi thermostats, Anden provides efficient and convenient monitoring of conditions anywhere, anytime. Anden can also help determine the exact latent load in your grow room and the correct size and number of humidifiers you will need.
Anden cultivation systems were built better specifically for you. For more information, contact a supplier today.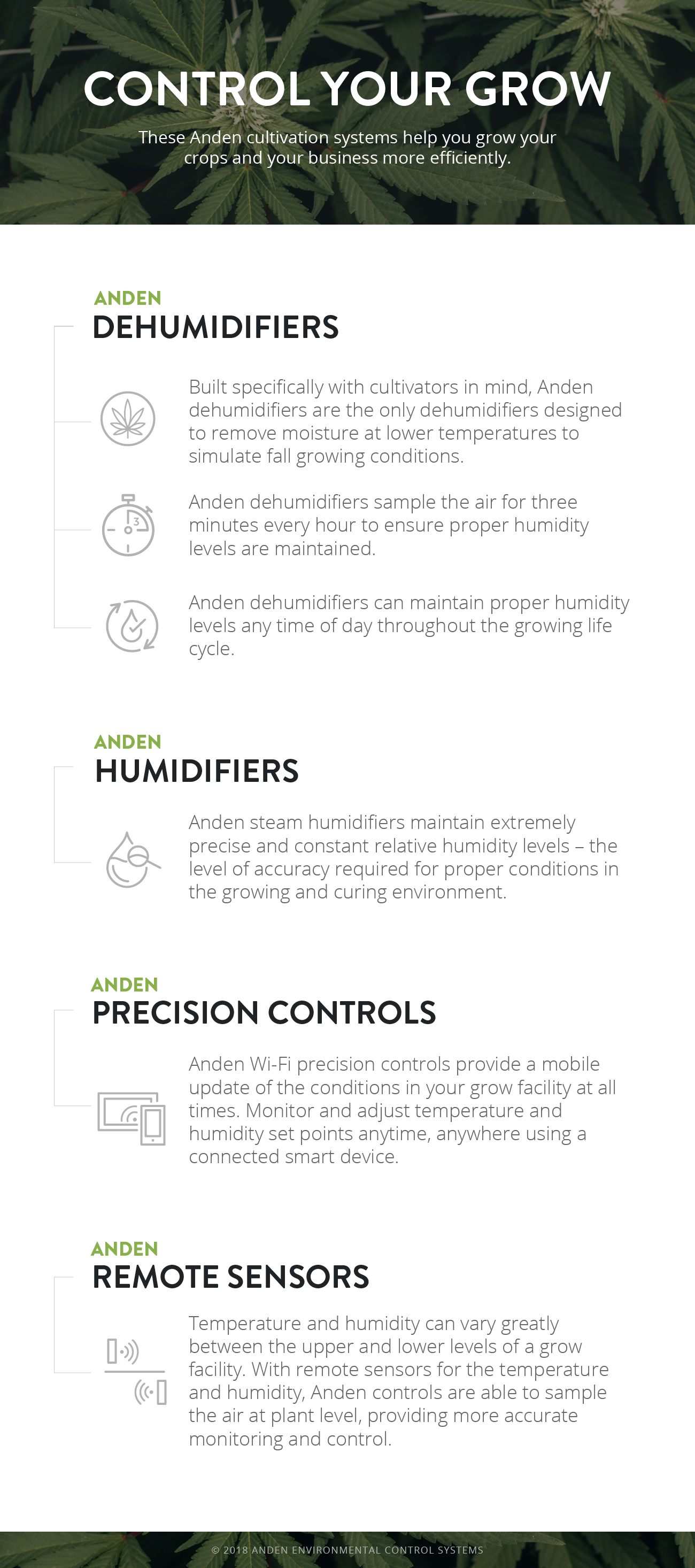 Control Your Grow
These Anden cultivation systems help you grow your crops and your business more efficiently.
Dehumidifiers
Built specifically with cultivators in mind, Anden dehumidifiers are the only dehumidifiers designed to remove moisture at lower temperatures. This simulates fall growing conditions.
Anden dehumidifiers sample the air for three minutes every hour to ensure proper humidity levels are maintained.
Anden dehumidifiers can maintain proper humidity levels any time of day throughout the growing life cycle.
Humidifiers
Anden steam humidifiers maintain extremely precise and constant relative humidity levels. This is the level of accuracy required for proper conditions in the growing and curing environment.
Precision Controls
Anden Wi-Fi precision controls provide a mobile update of the conditions in your grow facility at all times. Monitor and adjust temperature and humidity set points anytime, anywhere using a connected smart device.
Remote Sensors
Temperature and humidity can vary greatly between the upper and lower levels of a grow facility. With remote sensors for temperature and humidity, Anden controls are able to sample the air at plant level. This provides more accurate monitoring and control.
Know more. Grow more.
Have a question? Need help getting started? Give us a call at 1-800-972-3710 or drop us a line.