All hobbyists have their eyes on the ultimate prize: healthy cannabis plants that provide maximum yield. So, when planning and building out your grow room, it's important to know what those winning plants will need.
In addition to room size, growing medium, lighting, and nutrients, establishing precise climate control and humidity plays a key role in successful growing. Get them right and you'll reap the benefits of your yield. Get them wrong and you'll be battling all sorts of pesky problems, including powdery mildew, mold, and root rot. Environmental control is the backbone of every successful hobbyist's grow room.
That's what makes dehumidifiers such an important decision for any hobbyist. And not just any dehumidifier, like the portable kinds that are mainly designed to take moisture out of basements that you find at your local hardware store or online retailer. For optimal growth success, you'll need a dehumidifier that's designed to operate in every stage of the grow cycle: Propagation, Veg, Flower, and Cure.
Anden's medium-capacity, commercial dehumidifiers – the A70, A100, and A130 –are designed with robust components and tuned to operate efficiently and control VPD in the wide variety of conditions associated with high-end indoor cultivation that makes them perfect for the serious hobby grower to larger-scale operations. Your up-front cost may be a bit higher than if you opt for the portable kind. But in the long run, portables can't deliver on the superior yield and reliable results of Anden products.
In addition to excellent customer service and installation assistance–complete with space-saving ducting kits – Anden dehumidifiers crush portable units in just about every category. Our units are also backed by a 5-year warranty so you can grow with confidence, while a typical portable dehumidifier only has a 1-year warranty. Let's take a look at how else our A70, A100, and A130 commercial dehumidifiers compare in a feature-by-feature growing competition.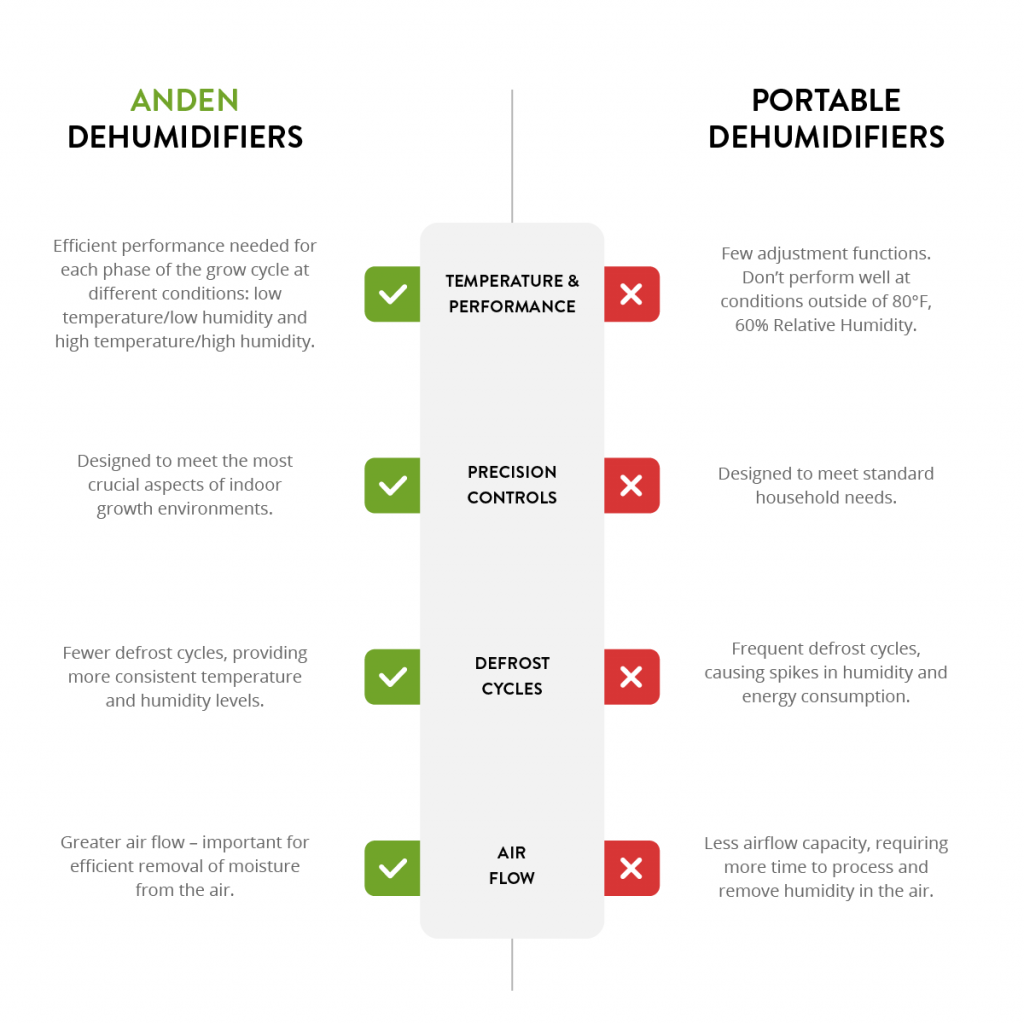 At Anden, we never cut corners, and neither should you. So, choose the equipment that's purposely Built for Grow. We stand behind our products and are committed to supporting cultivators. It's what we do. And it's all we do.
Know more. Grow more.
Have a question? Need help getting started? Give us a call at 1-800-972-3710 or drop us a line.