Since 1954, Aprilaire has been an innovator in whole-home indoor air quality products. Engineered and manufactured in the USA, Aprilaire products provide HVAC contractors, builders, as well as waterproofing, encapsulation, pest control and basement/crawl space professionals the ability to provide healthy air to homeowners everywhere. No matter the climate, home, or heating/cooling system, Aprilaire has the right products for you to install and to help you grow your healthy air business.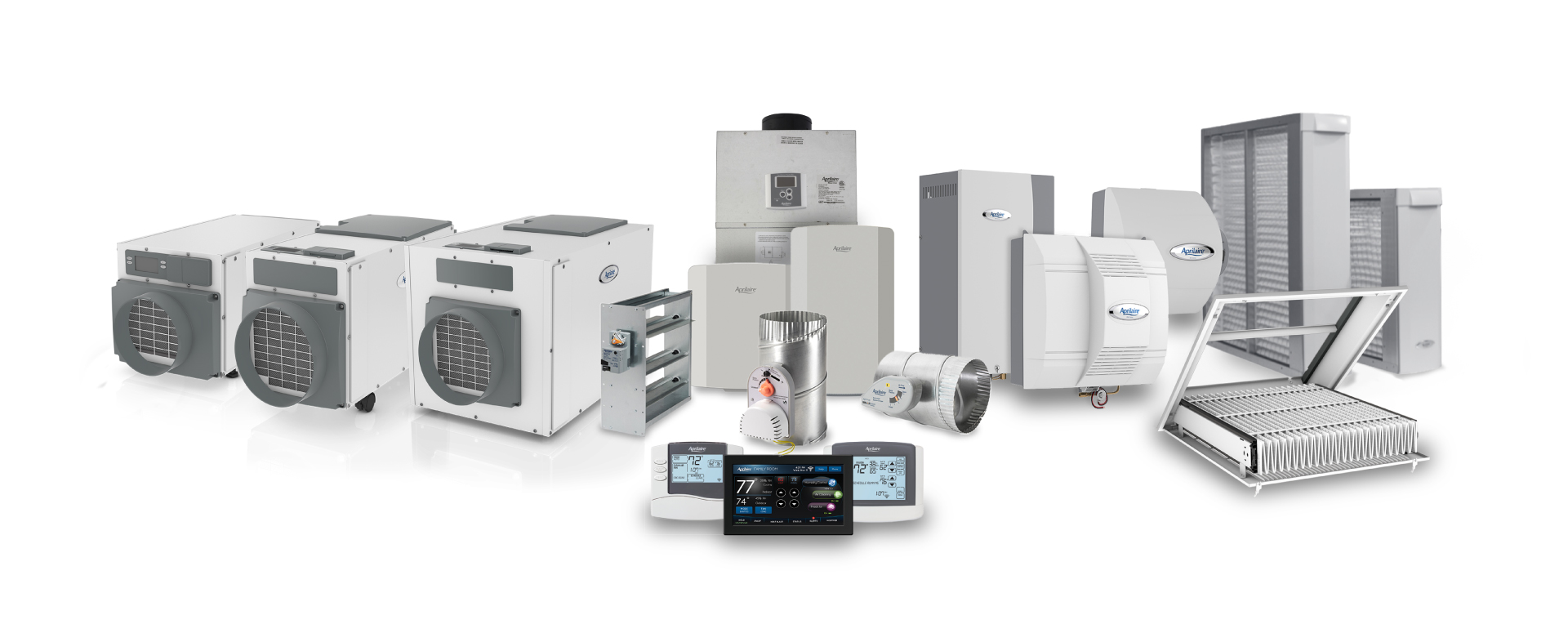 Aprilaire Products
Humidifiers
Dry air in the home makes virus transmission easier and creates uncomfortable conditions like static shock, dry itchy skin for homeowners. Aprilaire's comprehensive line of whole-home humidifiers allow you to provide your customers with properly controlled humidity, no matter the type of system or size of home. Check out the selling tools and technical info for our steam, evaporative bypass and fan-powered humidifier models.
Dehumidifiers
Aprilaire high-capacity whole-home dehumidifiers remove excess moisture, preventing mold, mildew, bacteria, and viruses from creating unhealthy air. Built with efficiency and safety in mind, Aprilaire Dehumidifiers are capable of removing up to 130 pints of moisture from the air per day. Choose from a wide variety of sales tools below and start selling more dehumidifiers today.
Air Cleaners
In today's tighter homes, airborne viruses, allergens, and other contaminants poses a serious health risk to your customers. Provide healthier air today by installing Aprilaire Air Cleaners and High-Efficiency Filters. Not only will you be improving your customers' health, you'll also ensure that the HVAC systems you install will last longer and prevent you from needing to make profit-robbing callbacks.
Thermostats
Aprilaire Thermostats are an important add on and a must for any contractor that installs Aprilaire Healthy Air Solutions. Including an Aprilaire Thermostat with every Aprilaire product you install not only provides temperature control, it allows homeowners to control and monitor their homes' air purity (Air Cleaners and Filters, humidity (Humidifiers and Dehumidifiers), and air freshness (Ventilation).
Ventilation
Homes today can be up to five times more polluted than the air outside. Aprilaire Fresh Air Ventilation products are more important to install today than ever before. Not only do our ventilation solutions bring clean, fresh into homes, they also reduce the concentration of pollutants in your home, providing you with the most effective option to help your customers protect their homes against airborne viruses.
Zoning
Zoning is an essential component of today's energy efficient homes. Well-designed zoning systems provide reliable operation and years of optimal comfort and energy efficiency for your customers.

Aprilaire Training
Aprilaire has training opportunities for every member of your team – technicians, sales professionals, comfort advisers, and marketing team members. Take advantage of our free training tools today by viewing our training video library and by signing up for upcoming live webinars.

Business Building Programs
For contractors that exclusively sell and install Aprilaire Air Cleaners and Thermostats, we offer FREE product imprinting. Our high-quality imprinting processes ensure that your company's name and info will be front and center on the systems you install and service for decades to come. Click below to get enrolled today.

Promotion & Campaigns
Aprilaire has product campaigns that align with our seasonal marketing campaigns that are designed to help YOU grow your business with IAQ. Visit our campaign pages to get sales tools, social tools, quote form assets, and more – all designed to help you educate your customers and sell more Healthy Air Solutions today.